Thailand | Backpacking Adventure I
Words escape me. So many of you have asked about our grand adventures and I'm excited to say that I've finally put together a collection of images to share! It was SO hard to narrow things down, it seemed everywhere I turned it was another incredible outlook, sunrise or river running beneath our feet. First I have to express my thanks to our incredible, fantastic, patient, talented, kind, selfless and brave tour guides, Pan and Som. Seriously- REI had sang their praises and so the expectations were high.. but they exceeded them in every way possible. From cutting down the grass ahead of us for countless miles of trails (Pan) to cooking the best meals we had in all of Thailand (Som and Pan) to making sure when we were in a car we arrived to our destinations safely.. oh yes and that when we got to the end of the trail we'd have a ride to our beds (Som) these two left no detail unturned.
A huge thanks to REI and their customer support team. There was a moment I didn't think things would work because I couldn't arrive in Thailand "on time" (I was shooting a wedding and couldn't fly any earlier than Sunday morning). After getting my hopes up and mentally planning for the trip this realization left me slightly (ok practically) devastated... and with their expertise they reassured me that I'd still be able to go- helped me find a flight pattern that would work and get me in on time (and not blow my budget entire budget) and went above and beyond in answering questions while we packed and planned for the trip of a lifetime.
A huge shout out to Kayla for inviting me to go along. I'm so glad I got to go with someone who enjoys traveling and braving new adventures into the unknown. Girl- I love ya and I'm so thankful we got to explore SE Asia together.. let's do it again!
Finally- a huge thanks to my incredible husband. He's been supportive from the first day I mentioned tagging along with Kayla. He stayed at home and took care of the pups and provided support from afar. Needless to say I was ready to come home but I am SO incredibly thankful for having this opportunity. For his support in not only my business but my personal dreams and passions. SE Asia holds a very special place in my heart and I'm thankful he allows me to travel and explore.
Ok.. so where to begin. I arrived at like 11:30pm the 7th of December and hit the ground running. I mean that was until I got to the hotel. After you've spent 22 hours in a planes and more than 24 traveling- laying flat in a bed feels like a luxury that's outta this world! It was a short night and we hit the ground running the next day. Breakfast and then it was a short trip outside Chang Mai for a "warm up hike" and some ziplining.
All images were taken using a Fuji X-T10. (Ps. my new obsession in cameras).
There were so many mushrooms of all different varieties and colors. Pan knew what of these were safe to eat, what they use for medical purposes, etc. It was so fascinating!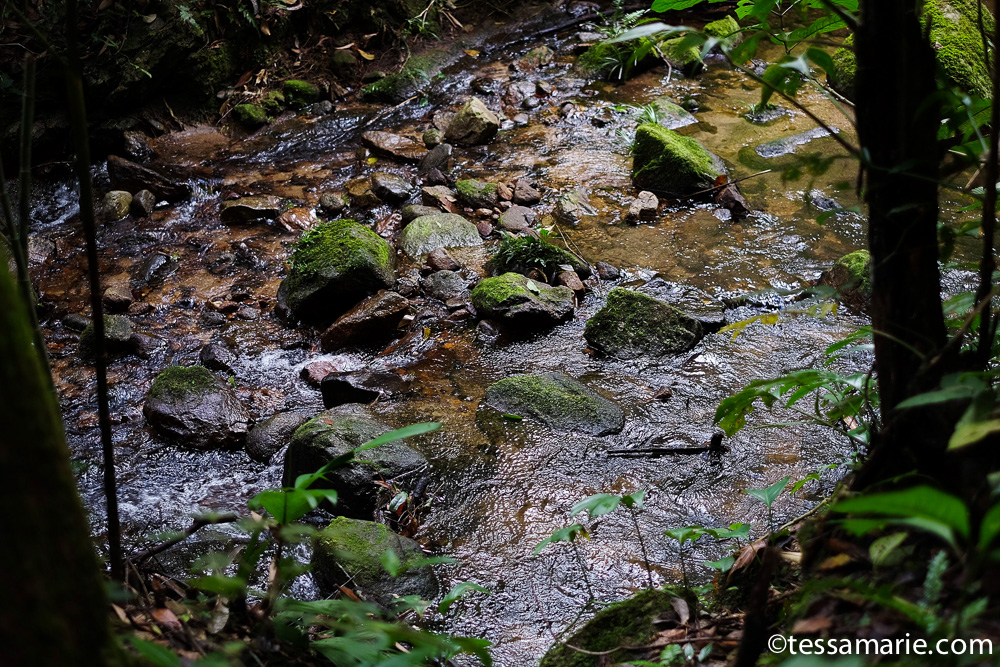 A really pretty creek we crossed.
This particular day we saw several waterfalls.
Our great leader, Pan.
These storm clouds were so beautiful and yet it never rained.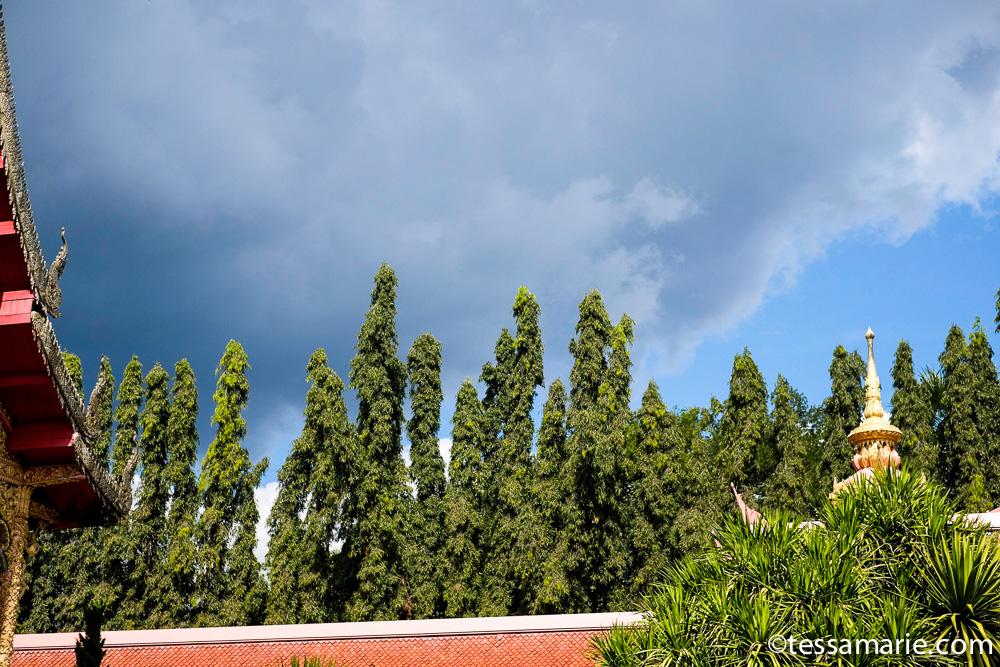 This was one of the many temples you'll find in Thailand. Their attention to detail is so intricate. So much gold.
Then we stopped by an elephant farm. This was a new day as we were on our way to the beginning of our 3 day hike!
The villages are tucked away in the mountains at all different elevations. Some on the sides of the mountain and some at the very top.
The orange fabric was tied to no fewer than 100 trees in this area we hiked through. Some old.. some new. Pan said it's where the monks go through and mark trees to be saved and not cut down. Preserving forrest areas.
on this mountain ridge we stumbled upon a man no less than 70 working in the middle of this harvested corn field. His hut had collapsed from a tree falling on it. We'd been hiking for several hours at this point and seeing us arrive he quickly went and gathered pieces of bamboo and laid them on the ground at our feet so we'd have a place to sit.
The hospitality of this region and their people always leaves me humbled. Literally- we interrupted this guy and his work and rather than continuing on with the tasks he had to complete he took the time to come and aid us. Ensuring we were comfortable. A genuine act of love and kindness.
See the angle and incline of that mountain side? They literally farm these hills. It's incredible.
SO beautiful. Take me back...
Coffee beans laid out to dry.
On our way out of a village we'd passed through we met 3 boys on a road on their way back home. It was the littlest one that had the biggest knife. haha
Seriously- so incredible.
We literally spent 3 days climbing mountains and hiking trails that they would typically use to go out to their farm fields or between villages. It's basically straight up or long pieces of downhill. The terrain was unforgiving and we were in the dry season! Unforgiving but always beautiful.
This is the village we stayed in the first night. A welcome sight to 4 very tired legs and 2 sore bodies!
All sorts of different trees.
In the past 10-20 years Thailand has worked with the farmers to teach them to grow crops that they can sell and that will also help feed their own people. Ways for them to contribute in a positive manner to their economy rather than simply growing and selling opium.
In this village we saw fields of cabbage, lots of chickens, wild dogs (that also got into a real chicken/dog fight), and peanuts and corn that were freshly harvested.
While teaching them about raising crops they've also helped in bringing in irrigation to the more remote areas so they can grow year round as well!
Pigs and chickens lived inside these little huts.
The view off one side of the mountain.
Then sunset.. it lasted literally Forever!
In this village (I believe it was Lahu) they work with fires inside their homes but don't have any ventilation. Doors are typically kept closed. It's like a smokehouse with people inside. Needless to say- Pan, Som and another guy helped cook up an incredible feast... all on one fire. It's impressive the number of dishes they can make in such a small space. This little girl was the cutest but pretty shy!
Where we had our meals (dinner and breakfast).
One of the most astounding views. That mountain on the left is the 3rd highest peak in Thailand.. we would eventually spend 2 days biking in the valleys below it. You'll be seeing it again!
Then we walked through another village.. slightly less removed from and more "westernized". Kayla took up a game of soccer with the kids and I took pictures. Then this local woman walked through the background...
On the trail that divided a tea field on the side of a mountain we passed through there was this sweet girl sitting quietly.. and then she just laughed and giggled. She was so cute!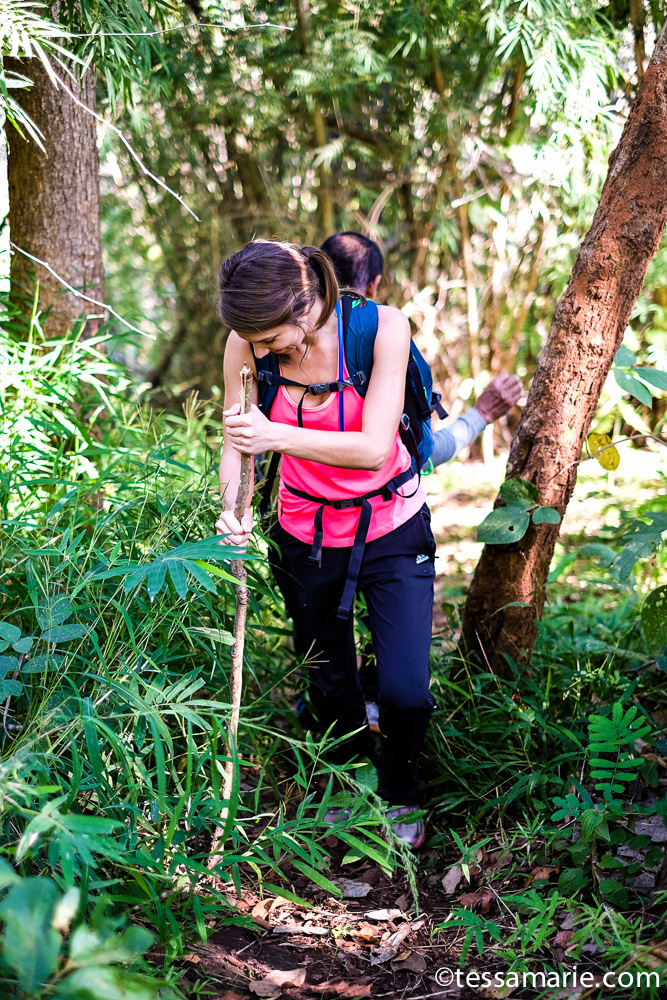 Pan had warned us that we'd do like 90 minutes of downhill before getting to our second "rustic" nights destination. After doing so much climbing it sounded wonderful... until we discovered it was literally 90 minutes of this kind of downhill without a break. It's a test of your quads and your knees ...
Heavy vegetation.. can you see Kayla and Pan?
Valley #2 at the bottom of the pano from above. After hiking for 3 days of hiking 12-15 miles a day seeing Som and the car at the base of this valley was a welcomed sight! Sitting in the backseat and driving felt WEIRD.
You'll have to come back to see the second part of our 9 day journey through Thailand.. the biking and Kayaking!