What Started as a Summer Crush | Evergreen Marriot Hotel Outdoor Wedding
Remember Y2K? That's about the time Kristen and Ryan met... a giddy little boy and girl not able to contain their excitement both arriving for Summer camp. They were a mere 11 and 12 years of age and finding a husband and wife hadn't even crossed their minds... but having a great Summer enjoying the Sun and festivities of YMCA camp was their only priority. Ryan was the cool "11 year old boy" and didn't pay any attention to girls but Kristen and her friends quickly noticed Ryan and his pretty, blue, crystal eyes caught their attention. Thanks to a brave friend Ryan was informed the "cute new blonde girl" had a crush on him and suddenly his "cool status" didn't matter so much anymore... he was going to see what this was all about! Then it wasn't more than a Summer crush, sure they "dated" that Summer but they really hadn't even "held hands" and that's what you do after all when you're "Dating" right? So at the end of the Summer they parted ways but kept in touch. Over the coming years they'd meet again at Summer camp and eventually they'd be leaders together... remaining friends throughout but still continuing to date other people.
It wasn't until the Summer of their Junior year of high school when the real sparks started to fly. They'd become the best of friends and for the first time found themselves both enjoying "single hood" at the same time. One Friday night, after their weekly trip to IHOP Ryan took a chance and told Kristen he liked her... thankfully those feelings were mutual and while he'd waited years to hold this girls hand it didn't take him nearly as long to muster the courage later that night to sneak a kiss on his best friend- which was totally cool as now she was his girlfriend!
I've never seen a bride more excited or sweet and full of emotion as Kristen. She'd waited more than 6 years for this day- the day she'd be her lifelong, best friend's bride. It couldn't have been a sweeter occasion than to see these two get married!
Her beautiful dress from J. Andrews was perfect for her petite frame and I absolutely loved the detail in the little flowers and lace.
The guys had it so rough hanging out by the pool while the girls were getting ready.
Such a beautiful bride... pure joy and excitement!
You were stunning Kristen!
They decided to do a first look and I'm oh so glad they did! I love these and the emotions, and excitement we were able to capture made it So worth it!
AND the gave us plenty of time to enjoy doing their portraits... they were able to soak up their surroundings and enjoy the last few hours before they became husband and wife.
seriously- you guys could be on the cover of a magazine.
I was slightly obsessed with her hair and she LOVED it as well. Love, love, LOVED this! Thanks to Kara of Brushworx fabulous job!
My favorite picture of the day... this very well could be the next canvas hanging in my office...
Kristen's girls were so sweet and had such a great time.
I didn't see it...
So there's a story behind this picture... as they guys were walking the trail, Matt (whom I guess is always "the one" getting into trouble from what they said) stepped in a wet puddle.. here you can see he nearly lost his balance and in the process splashed mud all over everyone- but John (whom had been through the drama of a missing jacket and shoes already that morning) happened to catch the worst of it. Ooops.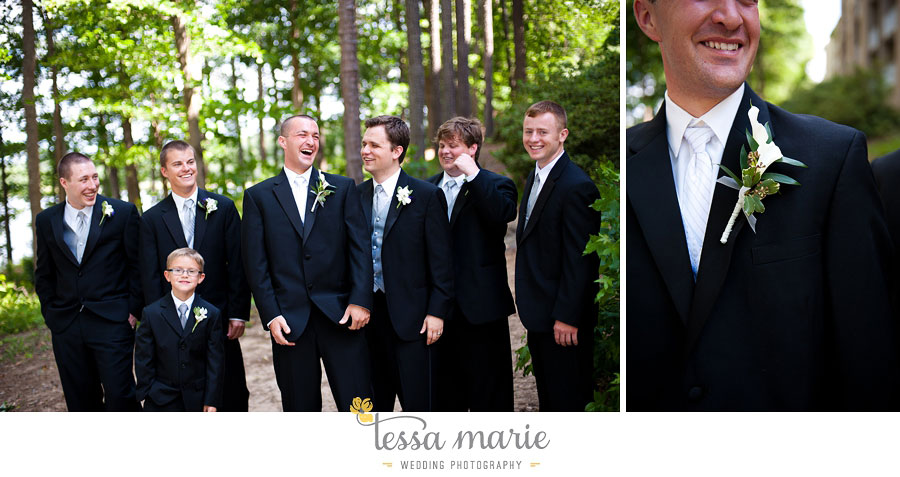 Coolest little ring bear EVER. He was the most mature guy in the group!
This afternoon we'll debut part 2 of this wedding as there were far too many pictures and stories to share in one post.
To view all their wedding pictures online simply click here.