Unplugged Weddings
Today I'd love to talk about "unplugged weddings". If you haven't already heard the phrase you can read about it here on the Huffington Post. It made the headlines last Summer and this year though I haven't seen as much buzz about it I wanted to share some real examples from weddings I've shot in the past couple of years. *disclaimer* I don't mean to offend anyone with the images I use as examples but simply selected these as I felt these were some of the strongest examples I have while talking about this topic.
If you're currently in the midst of planning your own wedding you may find this quite interesting and helpful. If you're going to be a guest at a wedding in the near future you'll also find reasons why I highly encourage you to read along as well!
This photo was taken just weeks after the Huffington Post article. What struck me was the difference in the emotion of the moment captured split in two not only by the aisle but by their guests being present "unplugged" and those taking their own pictures with their device of choice.
If you covered the left side of this image you'd see a very happy couple and guests who shared their excitement and happiness by applauding, smiling, and cheering for them as they were pronounced husband and wife.
Now- cover up the right side of the image and you'll see a happy couple that if you didn't know the moment being captured simply appear to be smiling for a picture, can anyone say, "cheese"?
Sure there may only be 3 guests taking pictures but the story of the moment and the contrast in the emotion is drastically changed.
I was thrilled this past Fall when shooting the details of this wedding and saw the bride actually had cards printed to hand out to her guests at the ceremony encouraging them to be present during their wedding ceremony. What was the result? 
Lots of laughter and smiles shared by their family, friends and guests. 
As a photographer I can promise you that our jobs are made exponentially more difficult when guests are more concerned about getting their own "shot" rather than enjoying the ceremony and celebration they've been invited to attend.
Have you ever noticed how when you bring out your camera of choice, an iPhone, iPad, dslr or point and shoot  you loose yourself in "getting the shot" and realize looking back you were disconnected from being present in the moment?
Guests engaged with one another and are part of the moment like below:
or candids of your guests look something like this:
While I fully respect and understand an individual's desire to get pictures of their beautiful friend, cousin, aunt or niece when this happens my heart hurts for the bride as I'm limited in capturing those last few moments of her with her family as she walks towards her groom and starts becomes part of a new family. 
Such a great moment of the bride and her parents but it was ruined by guest's camera phone. 
I absolutely love this picture, the bride's father, the groom's delight and his mothers tears but find can't help but be distracted by the camera phone in the background. How much more powerful this would have been if everyone would have been sharing in their excitement in this moment.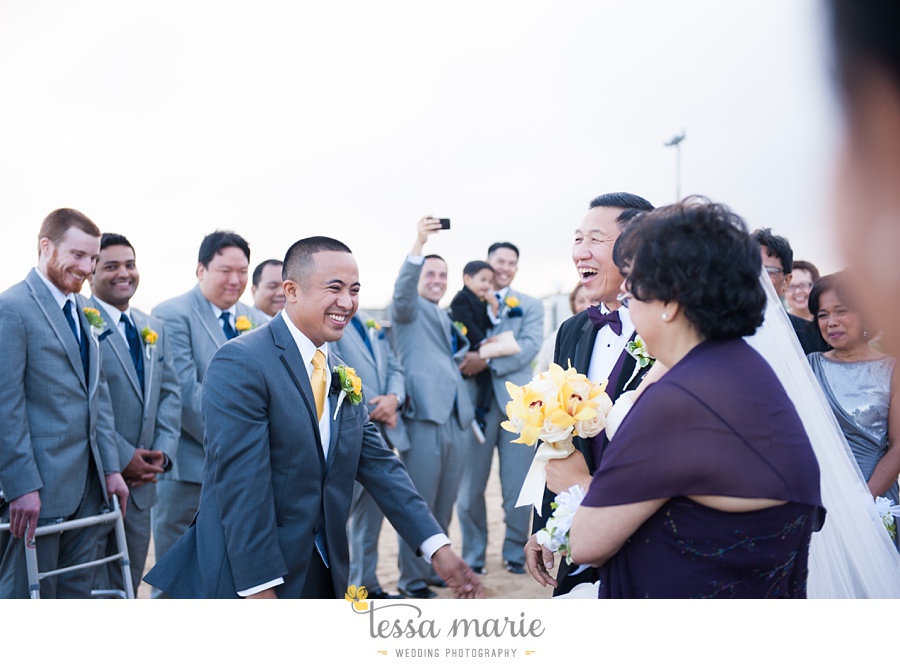 Sometimes it's really a challenge to get the shot with so much competition.
The distractions of phones vs. 
Most everyone celebrating the moment and sharing in their joy.
I absolutely LOVE this picture of the groom's parents as they watched the first dance and the guests around them- with the exception of the cameras. A great moment- yes. Image this without the background distractions and more smiling faces- the impact and story would have been exceptionally greater. 
I fully understand your desire to have as many pictures as possible of your wedding. I understand the desire of your friends and family to have pictures of your celebration as well but I've also seen first hand precious moments and memories hijacked by guests and their cameras. Week after week I see stories and moments either made stronger and more impactful by everyone in the frame being fully present or less impactful due to unengaged guests or seeing cameras rather than faces.
I know so many of you brides want to make a wedding day that's not only beautiful but that your guests will truly enjoy and remember. You hire a professional like me to capitalize on capturing candid moments of your guests enjoying the day along side you. I have a hunch that you'd love seeing their faces of joy and delight rather than concentration and phones rather than expressions.
I also know as guests the desire to capture an image to remember being a guest at the wedding.
While I'm not going to say the entire wedding day should be "unplugged" I strongly encourage brides and their guests to be selective in the times they pull their cameras and phones out. I strongly encourage anyone to be present in such beautiful moments you share with your loved ones- on wedding days and even in your everyday. Yes, there's a time and place for a camera but don't forget to be fully present and not get lost in "documenting the moment" that you miss it and never actually experience the emotions and joys that would have been the result of being present in that moment.