Emily and Chris | Atlanta Engagement Photographer
Though he was born and raised in Texas on Saturdays you'll find him cheering for The Crimson Tide. He and Emily met while they both attended the University of Alabama and met thanks to mutual friends his sophomore year. He said she caught his eye early on and though it may not have been love at first sight he knew after a week of knowing Emily there was no doubt this girl was special. Meanwhile her story is slightly different...
"When I was a Freshman in College at the University of Alabama my Big Sister in the Sorority, invited me to a house party. While at the party with many of my pledge sisters and boys from a fraternity my friend asked if anyone caught my eye. Chris had caught my eye all night, but honestly I was too shy to approach him. She automatically replied he is my best friend I must introduce you. She introduced us and we talked all night. Even went after the party with some friends and watched a movie. We ended the night around 4am and my roommate and I headed back to the dorm. Over the next two weeks we texted and hung out one or two times with friends. I really really liked Chris, but didn't know if he liked me and didn't want to ruin my chances. Finally he asked me to be his date to the first home football game and the rest is history. We were together all the time from that point on. So yes, love at first sight!"
These two currently live in Texas but were in town for the weekend. The original planned session it was forecast to rain so we were able to squeeze the pictures in before sunset the same day they got into town and I'm so glad we did!
When it comes to her favorite styles and outfits Fall is her favorite season with skinny jeans, sweaters, leggings and boots. (girl after my own heart..) Lucky for her, Chris' favorite outfits she wear also happen to be in the Fall and we had the most beautiful Fall day the afternoon of their session.
I'm so excited and honored to be a part of their wedding in May!
To be notified when the pictures from Emily and Chris's Engagement Pictures are ready to view and order online simply click here.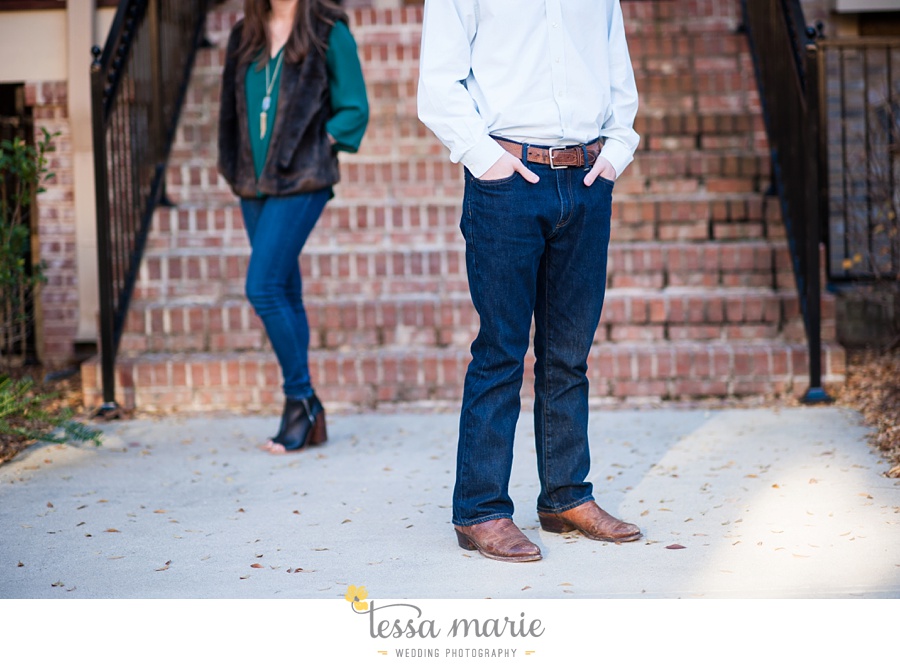 It's in the way he looks at her- it's clear just how much he adores this girl. 
Life is full of adventures and it's always more fun when you go hand in hand. 
Can't wait to see you guys in May and one day visit ya'll in Texas!