Hoff Shop | Bring on a Challenge
This past Fall I took a trip to Memphis. I've been following a powerhouse duo, aka Tony and Amy Hoffer and when they announced their workshops in Memphis I jumped in. These two aren't only supremely talented but they're genuinely incredible and put their entire hearts into seeing each of the attendees succeed and learn. Highlights:
Portfolio/Website Review: Not only did these two review our work and provide feedback and constructive criticism but they reached out to a few real life couples and took the time to have them review our work and websites. Incredible and such a blessing to have this insight!
Challenges: Each day during the shoots they gave us challenges to work on each based on our own work and where they felt we could improve or a challenge that we would gain the most from. This was def. an opportunity to try and break the "normal routine" and try something new. The first day it hurt. It was hard. Frustrating. Annoying. Trying and all the above! By the second day though I was thankful for these and started to seeing things differently and feeling a little more confident in what I was seeing in my camera again.
Community: It was fun to meet other photographers from all over the US. A ultra dedicated photog even came all the way from India. Seeing everyone accept the challenges and grow over the course of the 2 days was pretty incredible as well.
Meeting Tony and Amy: Like I mentioned before these two are incredible individuals, they're not only talented but they care and they have a special skill of teaching and communicating as well. Totally blessed to spend 2 days with them and their extraordinary assistant Lindsay.
So I thought I'd share a few of my favorites as well as a couple of images that were straight of the camera and the final image.
My first day the challenge was to shoot at F8. Basically that means EVERYTHING is in focus so creating an image where the couple or subject still stand out is extra tricky..specially for someone who typically shoots on 2.8 or lower!
I believe this challenge was using lines differently. 
Walking around I kinda fell in love with Memphis, the history, old buildings and texture. Loveeeed it! 
Shooting wide at 35mm or less. For someone who typically shoots up close or uses compression this was very different! 
We changed "talent" or "models/ie real life couples" and away we went again. The weather changed pretty quickly so we took shelter under a bridge and continued the up close/shooting wide challenge.
Again.. seeing things differently and shooting wide. 
I just loved the emotion/expression in this image. So playful and so filled with love. 
Tony wasn't afraid to get down on the ground and to get dirty in order to help someone get the shot. 
Reflections. Taking advantage of the rain storm that rolled through minutes before. 
The next day we went out with a new set of challenges and tricks up our sleeves. This one was basically finding "terrible locations" with awful light and creating something pretty. I really wish I would have pulled back and taken pictures of exactly what it was we had to work with... but we'll just share what I created even in the most trying situations.
Getting started this was a really tough challenge but as the afternoon went it became my favorite challenge of the week. 
So this was a location someone choose. Mixed light. A set of stairs and a bunch of distracting elements in the background. Nothing pretty. This is straight out of the camera (SOOC)
Final image.
Another angle. 
This was a pretty bleak street with this building and a bunch of broken windows on one side. I really liked the lines it created and getting down from a lower viewpoint really created something different and powerful. 
This is another pretty boring alley. SOOC shot:
Mix it up. We went from an individual to working with two and more new challenges.
I wouldn't typically work in direct light that forces the subjects to look directly into the sun but being forced to create something in a situation that isn't your norm or you're not comfortable in is where growth happens.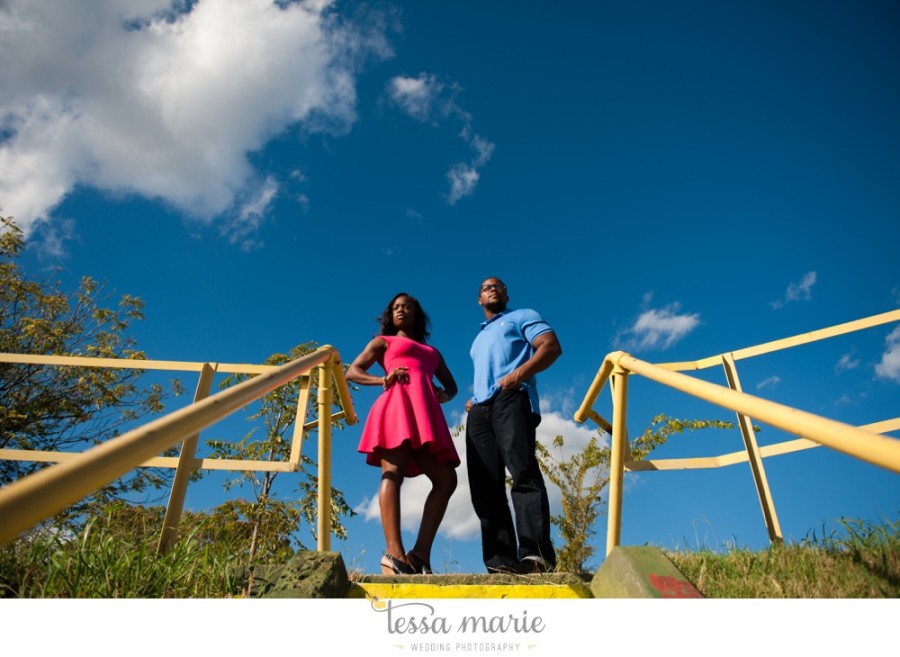 One of my favorites. Getting close and personal. She had the most beautiful smile! 
A white wall. A beautiful couple. An image that really pops! 
A huge thanks goes out to Amy and Tony for all the sacrifice, time, sweat and lack of sleep they endured to make this happen. It's a couple of days I won't soon forget and know will help me continue to grow and improve my work for clients in the coming months and years. HoffShop is an experience I'd recommend to anyone!