Destination Engagement Pictures | Fort Worth Texas
He headed North, excited about the future, meeting new friends leaving all he knew behind in Texas. He traded the plains of Fort Worth for the corn fields of Nebraska and assured his family he wouldn't fall in love with a farm girl. Then Lauren walked into his life. When he learned she was indeed a "farm girl" he was prepared and asked if she had any siblings. When she responded, "yes" he was relieved. She was not only gorgeous but smart. Just a year younger but having to take an extra "senior lap" at college meant that their relationship would have to stand the test of distance. While Matthew found a job after graduation in Houston, Lauren stayed behind in Lincoln finsihing her studies and applying to graduate programs.
Distance brought them closer together and picking up a pen and paper Matthew wrote Lauren letters on a weekly basis but didn't stop writing notes to the girl he loved- even after she was accepted and moved to Texas for her graduate program, (she has a box full to prove it). He assured me it's something he'll be happy to do for the rest of their lives.
From our very first Facetime conversation it was clear Matthew has a heart the size of Texas filled with love for his state and for his beautiful fiance'. While discussing their engagement session it was really important to make Texas a part of the pictures and the Spring was the perfect time to do this while also getting to include the Texas wildflowers. He'd set some pretty high expectations for these flowers and as we drove South and the fields grew larger and the colors more vibrant, my expectations were exceeded and it's one of those things where pictures and photographs don't quite do the huge fields of beautiful flowers justice!
Lauren and I shared the same school halls and even a locker room. Back in the small, western town the high school and junior high were together. Sharing teachers, halls, lunch rooms, etc. all felt "normal" until we moved East and shared our stories with friends from bigger towns. When sharing you quickly realize just how unique of an experience growing up in a small town truly is.
Lauren has become an incredible young lady and she's found herself a man that treasures her and a family to be that's as kind as they come. They welcomed me into their family without a second thought for Easter- even putting my name on the egg smashing bracket and including me on their Easter activities and fun. A huge thanks to Dr. and Mrs. Norris for their hospitality and to Matthew and Lauren for sharing their time, weekend and lives with me. Being their photographer and friend is such an incredible honor! It's going to be such a fun weekend in Lincoln come August!
Easter weekend was COLD. Like 50's and a wet breeze cold. Thankfully it only lasted for a day but in any case we went downtown Fort Worth to take some pictures. The wind was blowing and without the sun it made things cold and called for extra patience too. A special thanks to Kristen (Matthew's sister) for her extraordinary assistant skills- she was kind enough to come out and help us navigate the streets, lights, reflectors and security patrols (oh and cars too while I may have laid in the street).
So at this point we were nearly frozen and went for an outfit change. It was getting quite dark so we decided to just have a little fun and see what we could create before calling it a night and heading back for dinner. 
Monday morning the skies cleared and the sunshine came back out to play. We stopped by the Stockyards before heading South towards Houston. Growing up on a ranch it was pretty cool to walk these streets and see the yards where they'd drive thousands of cattle through to ship via the railway.
Love this. 
I think Lauren might be laughing at the fact that this man decide to ride his horse up and stand directly above me while I laid on the ground... "Don't move..." is all I heard and then I turned and saw the bottom of the horses muzzle.. now that would have been a picture! haha Thankfully neither the horse nor I panicked and we also didn't get scolded for taking pictures either. 
These were the actual stock yards where they'd hold the cattle while waiting to load them into the rail cars. These remaining yards are still partially used today for the rodeo stock when needed.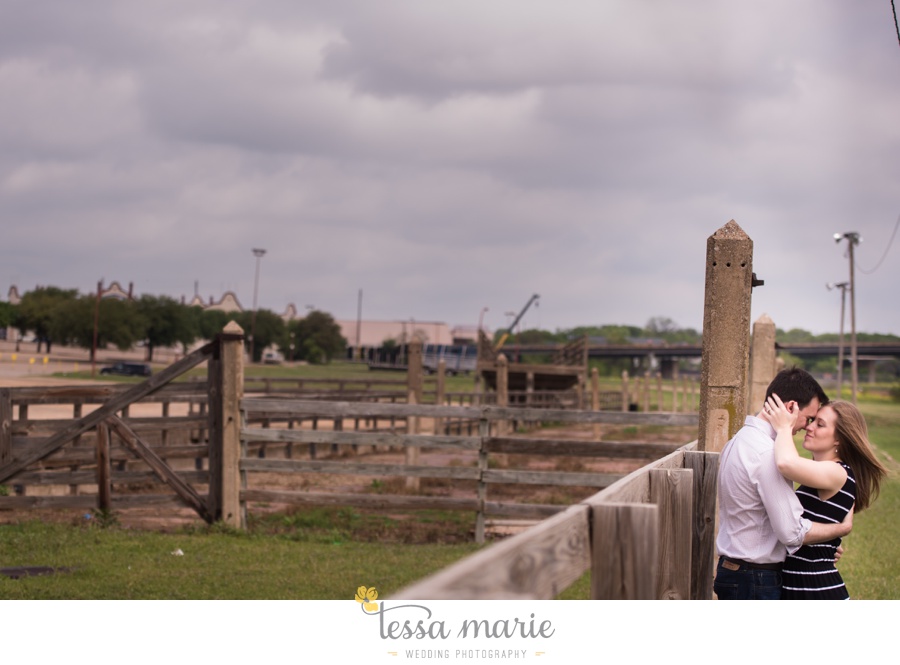 I'm excited to share Part two tomorrow filled with those famous Texas wildflowers!
To be notified when Lauren and Matthew's pictures are ready to view click here.