Whitnye and David | Amory Wedding Pictures
I met this gorgeous girl while I was in Spain last year (she was serving in Barcelona as a missionary at the time). She talked about this guy she was dating and how he was going to visit over Christmas. She thought they might get engaged when he visited but then she'd be home to get married in her hometown the following Summer. Sure enough the holidays came and while he was seeing the city his girlfriend had called home for the previous 10 months he took a knee in the rain and asked her to be his wife.
She'd reached out to me soon there after and asked me if I was available to shoot their wedding. Someone else booked her date and my heart sank... but then as fate would have it that date had a conflict for the other bride and once she rescheduled the date was open again for Whit. I'm SO happy I was a part of this beautiful celebration!
Her and her mama worked for months planning the wedding and their reception to be a fun "carnival" celebration. They had tents and stations set up outside with lots of games and all the favorite fried foods you'd expect to see going to the local fair or carnival.... it was beautiful and then the rain came.
The forecast was for a shower and sunny skies the rest of the day. Then the clouds rolled in and it became dark as night. Literally. It poured, the wind blew and it continued to rain. The clouds literally sat and circled for hours with no end in sight.
Yet Whitnye seemed unfazed. She smiled and remained focused on the fact she was marrying David, she had her family and friends from all over the world (literally) in attendance and that's what mattered most. The only exterior covered area was about 18" on the front of the church and so that's exactly what we made work. Cameras covered with repurposed dress bags we made it happen and went a dancing in the rain and rejoicing with this fabulous crew keeping our eyes and hearts set on making the most of the day for the bride and groom.
It was pouring while we shot the girls getting ready and her details. I found this little bitty window though in the church nursery and paired with a rocker, dress and accessories we knocked out some beautiful detail shots. Would you have guessed there were walls covered in nursery animals and the window was only about 12" wide!? :-D
Let's talk about these cougar print details. Loved it!
Whitnye has some pretty talented family members and they'd hung these black and white stripes in the sanctuary. What you don't see is the ceiling wasn't straight across so the math and straight lines that had to be sewn were worthy of a gold medal prize! Even Rachel- who loves math and physics was impressed. :-D
This sweet girl came all the way from Spain to be a party of Whit's day. She was the flower girl and her daddy was in charge of making their union official. :)   
Love.
The guys came out and joined us in the rain. :-D 
Sweetest little ring bear ever. He took a knee while delivering the rings. SO sweet! 
The rain couldn't steal their happiness of being husband and wife!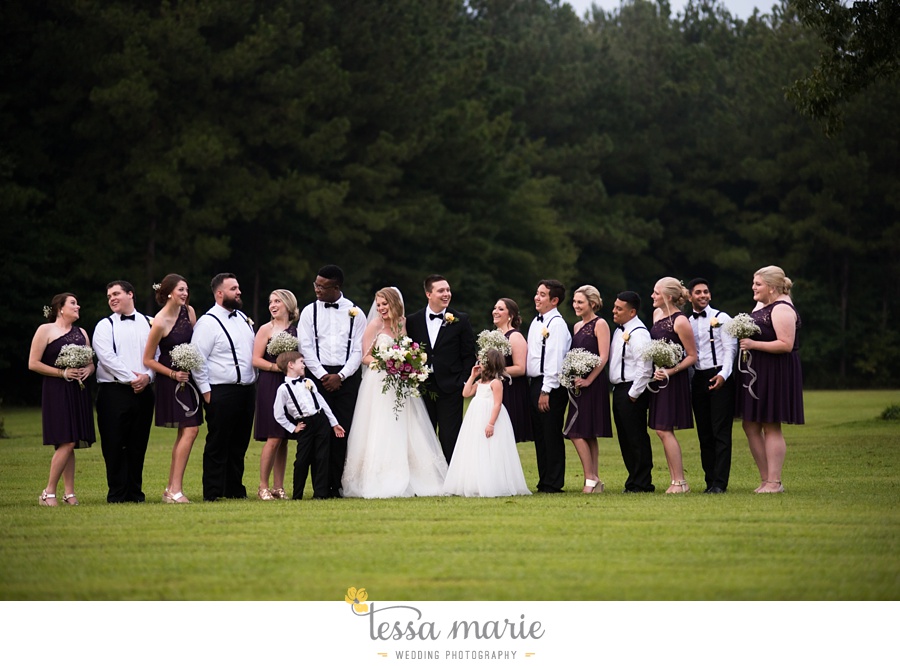 Oh my goodness.. in the midst of the wedding party pictures Whitnye realized this little guy had put his gum in his eyebrow. The stories you could create from this one image... haha
The rain broke, the grass was soaked and the ground was saturated but the sunset was gorgeous and these two got their feet dirty without a single complaint. Love them! 
Some candids from the walk back. Special thanks to Betsey for walking backwards with the flash. 
"Pause, I wanna shoot through this tree". One of my favorites from the day! 
So while we were taking pictures and Whitnye was getting ready they made the call to move everything inside. I have to say they did a remarkable job of transforming the youth room and bringing the carnival inside on short notice. 
Everyone talked about how talented this guy is and how he can sing. He sang a special song for his bride and I'd have to say if they weren't going to Barcelona he might just have a future in Nashville.