Alina and Andy | Ventanas Wedding Pictures
When a family member of one of my previous couples comes to ask if I'll be a part of their wedding day as well- that's the biggest compliment but also such a great honor. A few years ago I got to be a part of Krista and Teddy's beautiful wedding day (special thanks to Casey Blades) and when Alina got engaged I received an email from her asking about my availability. This family is one of the dearest I've ever met. Three girls, two incredible parents and an extended family that's tightly knit. They have French and Lithuanian heritages and they've made traditions from both of these heritages a part of their wedding receptions. Alina was absolutely stunning. I knew it'd be a good time with her and Andy when we did their engagement pictures this Spring!
The sun has been funny about being present on Saturdays the past several months but I have to say the clouds that hung over the city made for a pretty unique and beautiful backdrop for their wedding celebration. They braved the rain, the wind and the cold to hit up the helicopter landing pad for some pictures with the city in the background... And I'm SO glad they did!
I loved the monochromatic color palate of Gold Alina used. So timeless and elegant and all the details came together beautifully from the beginning to the very end.
I'm thrilled to be sharing their story with you and hope you enjoy taking a peek into their wedding day as well. If you'd like to be notified when the full gallery is ready to view please click here.
I just love her daddy's expression as they hurried into the church. A moment they may have missed. A gaze of such admiration and love. 
My favorite pic of Andy. 
Just before the ceremony- Rachel stays behind with the bride... She's become so skilled at being invisible and truly capturing the most intimate moments. These are no exception. 
The church was rather restrictive as to where we could be. One of my favorite pictures from Krista's wedding was an image of her daddy during the ceremony and I happened to catch another for Alina as well. 
During the family portraits I turned around a took this of her sweet grandma with her sister. Such a sweet portrait.
Trying his best to appease the flower girl. She just wasn't having it that day. Haha
Without a pretty lawn you have to make the most out of what's available in a limited amount of time... This is a parking lot disguised while creating a pretty portrait of the wedding crew. 
Bet you wouldn't guess where this was taken if you were to visit the church. They're again on the road/parking lot. I love a good challenge of creating something beautiful and unique with what we're given. 
You could see the rain moving in across midtown so we hurried to get a group shot at the top of Ventanas. 
Krista and Teddy stayed back for a few minutes so I could snap a couple of them. Loved these.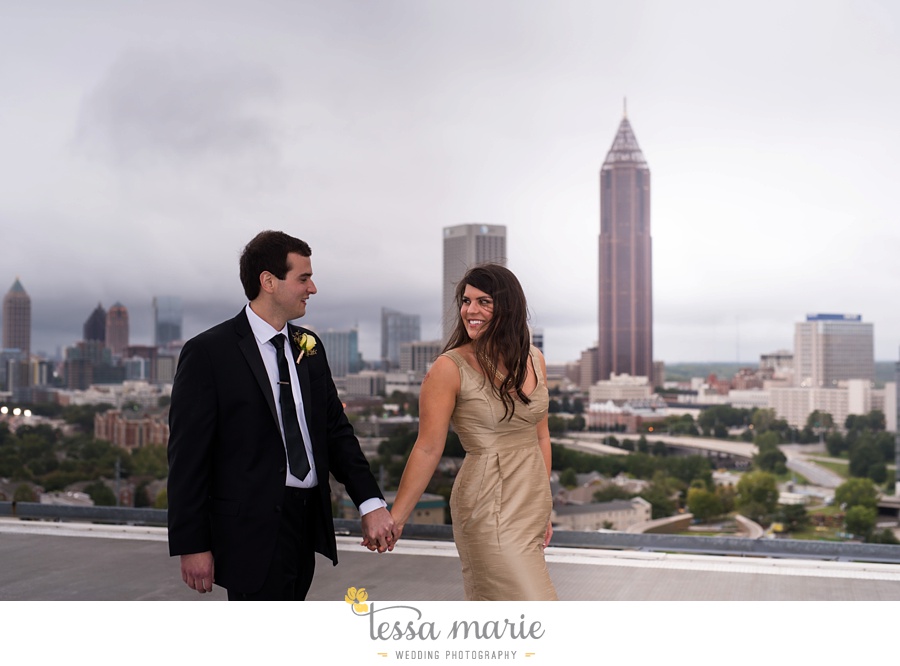 Alina and her sisters all hail from Tech. These are the most dedicated fans left in the stadium- it was SO cold and wet that afternoon!
Loved this shot Rachel took. The composition is so clever! 
Another great angle by Rachel. 
A sweet, fleeting moment between Andy and his grandma.