Rachel and Michael | Baltimore Wedding Photographer
From day one Rachel has felt more like a friend than a "client" or "potential bride". It's the way she goes out of her way to make those around her feel special and loved that speaks volumes to her genuine character and heart. I experienced this first hand upon arriving in Maryland this Spring. She not only picked me up from the airport with a smile but had the most thoughtful "welcome bag" with lots of Baltimore items inside. I consider myself exceptionally blessed to be able to have not only spent the weekend with her family but deliver one of my most favorite weddings yet. Michael is one lucky guy. I mean, I'm pretty sure he knows that already but he found a true gem when he found this girl. It's clear to see the way these two love one another. She's the bubbly in his champagne, he's the smooth and steady to her constant motion. They both have incredible hearts and their personalities and the way they treat others truly is simply a mirror of what they've learned and experienced from the generations of love before them. They both come from sweet, sweet families all of whom I quickly fell in love with.
I traveled back to Baltimore to Rachel's family farm. This Spring we were chased by the Spring thunderstorms and their wedding day brought the first cold front of the Fall season. It was windy and downright COLD. The kinda cold that wipes the feeling out of your fingers and toes. The clouds hung dark in the sky with moments of sunshine but these two and their wedding party deserve lots of praise for their brave and willing spirits to spend the day outside.
Some of my favorite moments from their day were the moment her daddy saw her on the stairs, the way Michael nearly welled up with tears when seeing his bride and when the sky broke through the clouds and the rays of sunshine became visible over their ceremony. Oh and I'll never forget the epic moment they were announced as Mr. and Mrs. into the reception and all the power went out. Priceless no doubt!
Rachel spent the morning with her girls getting ready. It was incredibly special to see her prepare for her wedding day in her childhood home. A home that's housed so many memories for her family and generations before her too.
When talking to Rachel about the first look with her daddy she mentioned how when she was a little girl on Sunday mornings she'd stand at the top of the stairs and wait for her daddy's approval. Hearing sweet and endearing words of how beautiful she looked in her dress it was without question where we'd have him see her as a bride on her wedding day. Those same stairs. The moment- absolutely without a doubt- priceless. So many tears.
The sun came out to shine for all of 10 minutes and we took advantage of it by shooting the family portraits pre-ceremony. Because we had a little extra time I took portraits of each grandparent or family as well. The moments in-between the "formal portraits" have always been my favorite and this day was no exception. The moments Rachel and Michael shared with their loved ones, the expressions and the emotion you can feel in these pictures gives me goosebumps. It's in the legacy of love that's gone before them, in the examples they've been shown and the road that's been paved that's truly seen in these candid moments.
Shaking things up a bit I'm starting with one of my favorite images I've ever taken. I wish I could say it's something I planned but then again I love it even more for it being one of those "lucky shots". Her daddy came to help me with her dog and take a picture of her ring. I love the way his hands are calloused and worn from years of hard work and the countless hours he spent making sure the farm was in tip top shape for the big day. The ring he's wearing happens to be her grandfather's ring making it all the more special.
Loved how special it was to see her prepare for the day in her childhood bedroom. 
Would you guess they're related? :)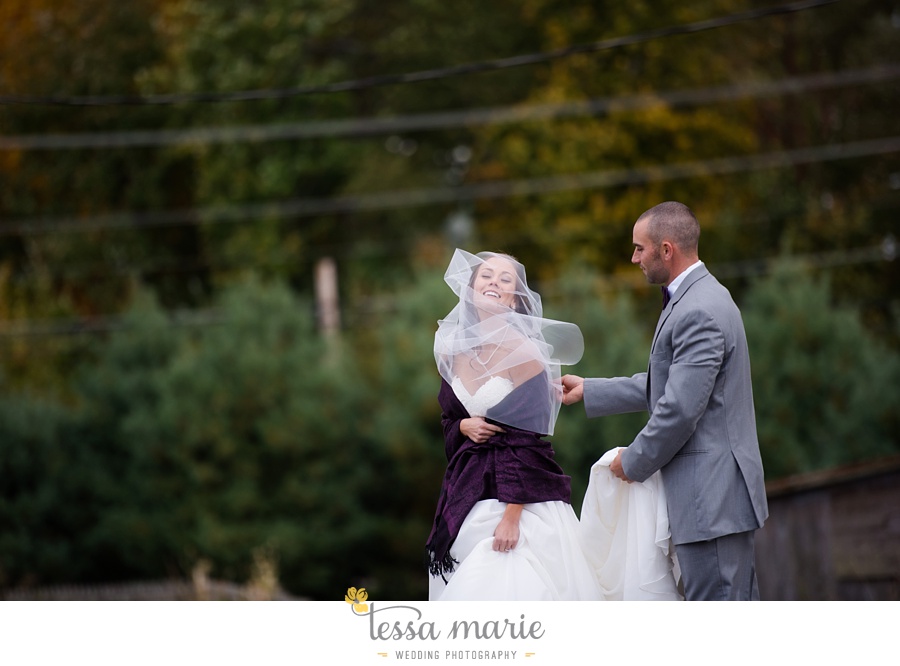 This old tractor was one her grandfather restored. So sweet and special to see it be a part of the day.
Totally candid and absolutely PRECIOUS.
Believe it or not this was once a chicken coop before it was renovated to host their cocktail party. 
I couldn't help but let her borrow my coat. Keeping the wind off your skin helps SO much with the chill! I've gotta say she still looks absolutely stunning!
This sled is something they found in an old barn. It's a snow sleigh from the 1800's! Lots of love and hours of tedious work later and all the pigeon poop was cleaned up and it was brought back to life.
Such a sweet reaction when his bride came down the aisle. 
And then the sun peeked through the clouds.... 
Favorite. 
It may have been cold and cloudy.. but it was worth it. The sunset was absolutely magnificent! 
See what I'm saying when I say this chicken coop was transformed!? I mean if you've ever been inside a hen house you'll understand...
That one time when the dj lost power as the bride and groom were announced and the entire reception went dark.. :)
We took the risk and turned the cake so I could shoot back on the room rather than shooting into the side of the tent. Totally worth it!