SarahAnn and Ben | Johns Creek Wedding Photographer
One would search long and hard to find a more endearing, compassionate, sweet and thoughtful couple than SarahAnn and Ben. I also couldn't dream of a better way to end such an incredible season than celebrating with these two and their families! SarahAnn knew even before she was engaged she wanted to share her day with me and friends- that means more than words can simply express. I may have known "the day" was close before she was even engaged and her sweet sister (whose wedding I documented last year) was monitoring dates for her little sis.. to ensure I'd be able to be there! Like- seriously!? I got to meet Ben at their engagement session and it was clear SarahAnn had found a man that not only loved her but cherished all the things about SarahAnn that cause her beauty to radiate from her heart. She equally admires her man and I know they're going to touch many lives as they go through life together.
If you'd like to be notified when their full wedding gallery is ready to view simply click here.
A huge thank you to the Hunt and Knepper families for entrusting me with such a wonderful and special day. May these pictures tell stories and bring back memories shared that day for many, many years to come. xoxo
I fell in love with this portrait of her parents the first time for Griffin's wedding. I loved it even more this time!
The bridesmaids exchanged notes, cards and a special gift for Sarah Ann. The next few pictures... :-D
But really- how much more perfect could a "getting ready" space be? Not only is the light magical but there are so many special pictures and decor that naturally become a part of the images. My "40 year goggles" love things like this!
I loved the next two shots by my assistants. 
I thought this was a creative take by Rachel. 
She got that while I did these.. the veil was previously worn by her precious mama and her sister. 
I loved that there were still a few leaves left in the trees... and it was sunny and warm in December!
One of the sweetest first looks I've ever witnessed. These two are just precious.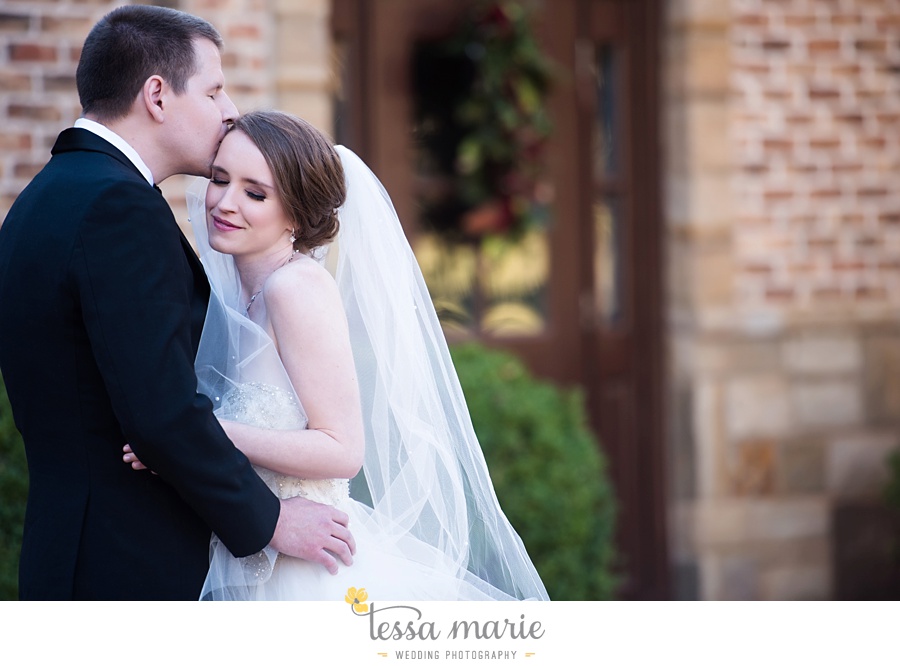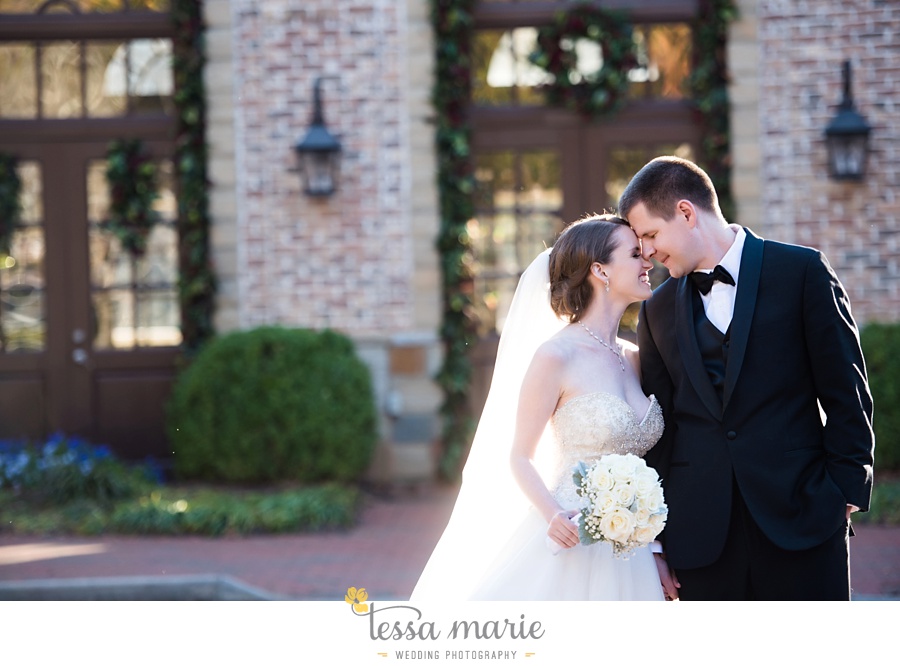 A gorgeous shot by Rachel. 
A tip for brides: Always have your hairstylist secure your veil with a bobby pin or two. Always. It'll prevent it from flying out in the wind or when creating shots like this: 
Then there was this sweet, shy little flower girl. Needless to say she warmed up to the camera... and her spunky personality nearly stole the show!
While I shot the girls Rachel and Samantha took care of the guys. :) 
Carrying your dress is serious business. (I promise this wasn't staged at ALL!) 
There was just enough light left to grab some shots at the church of these two..
Rachel gets to hang back with the bride and her daddy in those moments just before the ceremony begins and things become really "real". Such sweet candid moments. 
Meanwhile I was at the front of the church capturing the processional. 
This is one of my favorite moments from the entire day. 
SarahAnn and her sister's got to share their wedding days with their grandmothers but also their great-grandma. That's 4 generations of gorgeous women.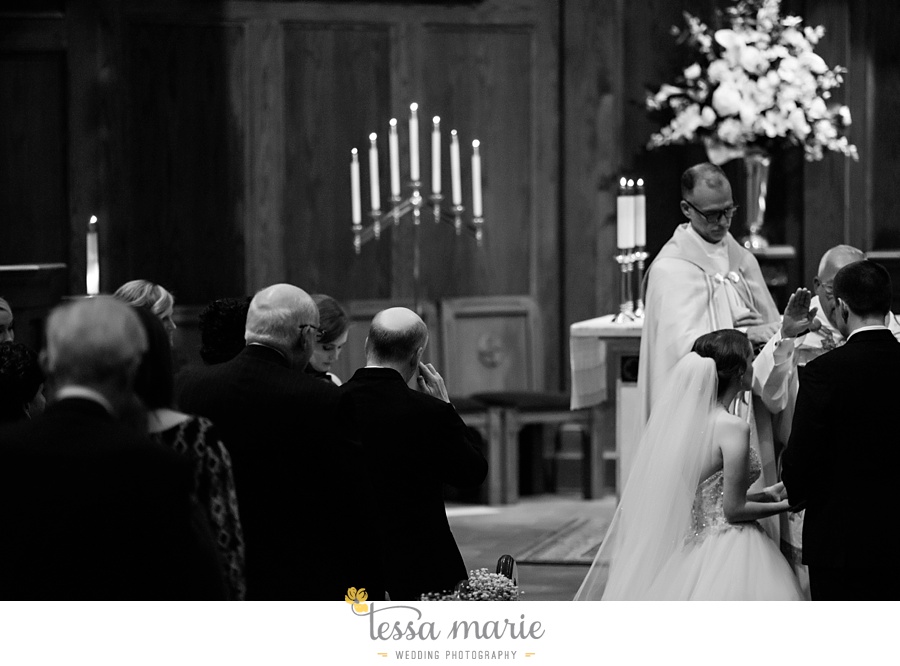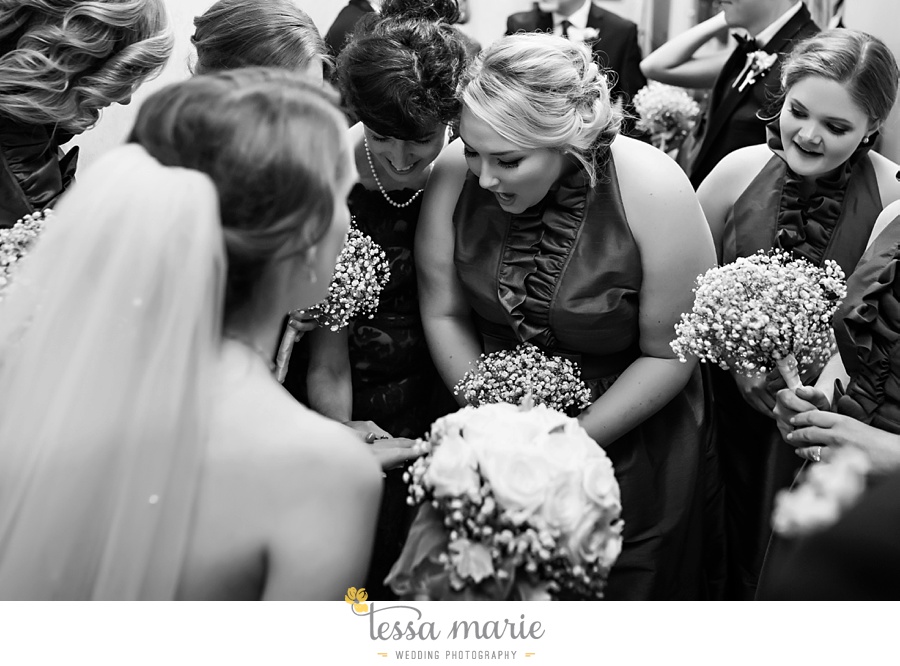 This is what a legacy looks like in flesh. Each of these beautiful women- so many stories. SO much love and they're all SO stunning!