Kayla and Buck | Foxhall Wedding Pictures
These two.. what a way to kick off 2016! I've been looking forward to this day since I made that trip to Florida for their engagement session last year during Spring training! (wait- you missed that.. no worries click here- the wedding will wait a few minutes longer). :) Welcome back- so not only did this wedding take place at one of my favorite places in the entire state of Georgia but when I walked into the room and saw the bridesmaids dresses I literally got giddy all over again. I've been waiting (patiently) for the day one of my brides would choose these dresses... they are STUNNING (you just wait). They complimented her gorgeous gown exceptionally well and brought so much pretty into the dead of Winter.
Speaking of Winter- we won the lottery and had a full sky of sunshine, no wind and a beautiful (warm) Saturday to spend outside taking pictures and celebrating these two tying the knot.
Kayla and Buck met in college and hit it off pretty quickly. She's supported and followed him all over the country and cheered for him with the same excitement and love from college to some of the biggest games of his career. He's her calm and steady and loves this woman so. It's clear to see just how much love and admiration he has for her in the way he looks at her when their eyes meet.
I'm blessed that these two came as clients but they've become friends. I look forward to seeing where their lives take them and look forward to hopefully catching a game or two in the upcoming season. :)
A huge thanks to you guys and your families for making me a part of your celebration... I hope you enjoy these memories and they bring you back to this very special day for many years to come. Much love xoxo
If you'd like to be notified when their gallery is ready to view click here.
So in the process of getting ready the girls found Kayla's hair brush she's had since highschool (or so I heard...)
When the bubbly runs over... I'm pretty sure I'd made the same face :)
While I was with the girls Molly was over with the guys...
I love this one. 
Runaway bride? Not really- she was just taking a hike.
I've mentioned how much I love hands and the emotion they carry... 
Molly caught his expression... such joy! 
veils... haha
I love the next three.. I just couldn't choose. 
Kayla's dad passed 10 years ago but they had his handwriting scripted onto this charm for her bouquet. It was beautiful and so sweet. 
The beautiful bouquets were done flawlessly by Bloomin' Bouquets.
"Hands in the air like ya just don't care..."
While I worked with the girls.. Molly got the guys taking a break. 
Loved these roses and they complimented the dresses so well and really allowed them to sparkle and shine. 
I'd seen this road the morning of the wedding and wanted to use it and then forgot until we drove by again. The light was tricky... but I loved the lines and the sky.
Molly got this while I stayed tight....
A little different but I really loved how the light hit her face ever so perfectly and highlights her beautiful smile. 
We went back to do family pictures and the light.. oh my goodness it was SO beautiful outside! 
I'll never take these moments for granted.. moments when families and couples are 100% vulnerable and forget. Moments so raw and real and priceless.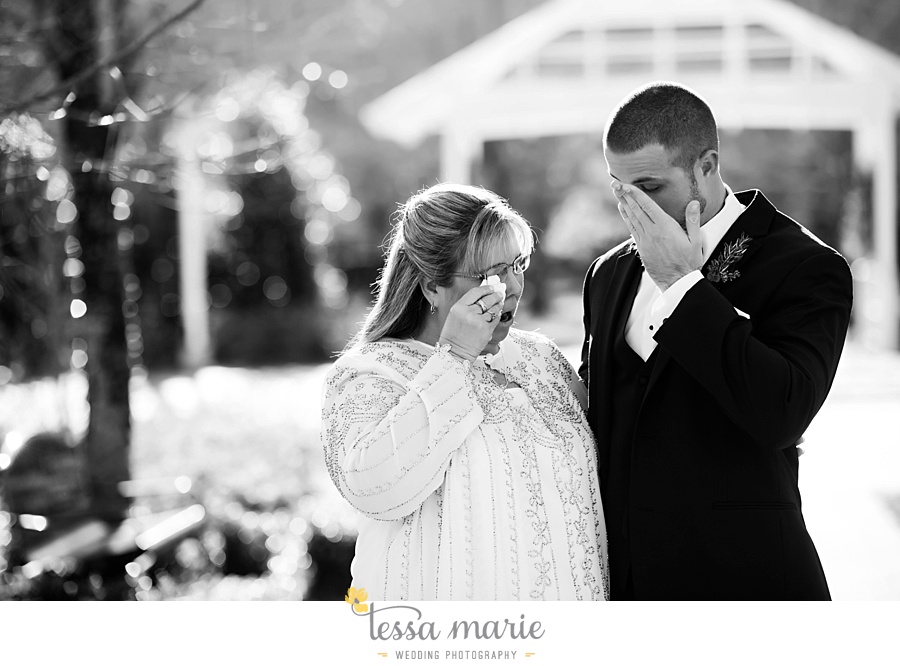 I loved the embrace these two shared after their "smile for the camera picture was over". These are the moments one can't create or re-create if missed. 
Oh this sweet, precious man. He wouldn't smile for the camera.. nope. Not gonna happen for me. 
Oh but for them... of course he will. :)
These two were SO cute.. they were so excited once it was their turn for a spin in front of the camera! 
Oh there's so much good stuff left to share.. but for now I'll tease you with this! 
Check back Monday for Part 2 and their ceremony and the party that followed!